Well, the weekend was exhausting but SO much fun.
( I attend an event & wax philosophical... )
In other news;
Mary Jarvis
is a freaking glass-bead-making wizard, I think.
I loved my first Beach Heart so much that I asked Mary to make some lentil beads to offset it, since the hemp necklace I'd made for it just didn't seem to be fabulous enough for such an awesome bead. She made the lentils (and totally went above & beyond, since they were so perfectly what I asked for), but she fretted that the color didn't match the heart I already had...so she made me a new one! I ended up with
this set of be
ads.
Mary liked the set so much, she's decided to continue offering it on her site. I have to say, it is totally worth every cent. Here is my new Beach Heart necklace (I knotted it while I was at the SCA event):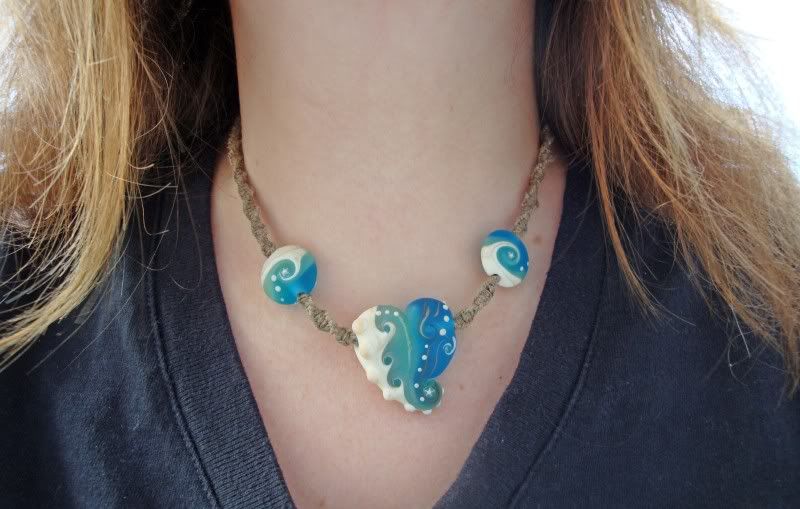 I made it much shorter this time...it's basically a choker (fun fact: I used to hate chokers but now that I am a smaller fitter me, I'm finding I LOVE them).
( OMG PRETTY! )
Mary should be a HUGE star on Etsy. Sometimes I feel guilty for the success I have there...I wish I could share some of my good fortune. There are so many wonderful, talented people I've met through Etsy. I'm honored to be able to call a few of them friends (like
TheFarGrove
and
LittleCookie
and
Neile
and
Batikwalla
)...they are all brightly shining stars and inspirations, and if I had my way they'd all be household names. We all work in different media but we are all the same; just busy little bees, trying to make pretty things and be as excellent as we can possibly be. I think it's a beautiful thing.